I was first introduced to New Story Charity when I received an email from co-founder Brett Hagler on May 9, 2015.  On May 27, we were sitting next to each other on a plane headed down to Haiti.
Two of my favorite aspects of being a photographer are:
1. I never know where a camera will take me next. I could have absolutely nothing on the schedule and then all of a sudden be on a flight to Haiti or Turkey or India or wherever.
2. I have the privilege of meeting incredible people doing incredible work through the companies/organizations they have started.
New Story Charity is helping to build homes for earthquake victims in Haiti by raising funds and then channeling them to local partners on the ground. The details of how this plays out will be shown throughout this post but to learn more, visit their website and please consider specifically giving to their current campaign, 100 homes in 100 days.
While I'll be sharing a lot of the photos I took during my two days there, I also wanted to provide a glimpse at my setup using some behind-the-scenes photos that people snapped for me.
To lead off though, I wanted to share something that had a more personal impact on me during the trip. It's always hard leaving home because I'm leaving my wife and boys behind. However, moments pictured below make it so worth it and end up blessing me when I believe I'm there to serve and bless others with the gifts I've been given through photography.
These kids could not wait to help carry, drag, or hold my equipment. Now for some photographers, this may make them very uneasy knowing that there is a lot of money behind all of that equipment but I didn't want to take away from them the opportunity to serve when I could see how badly they wanted to. It's easy to walk in to situations whether it's a mission trip or contracted job with a non-profit and think that you are there to save the day or be the blessing or fix a problem but I've found that this mentality then keeps others at a distance. What's even more important in these moments and experiences is to build a relationship. Yes I want to do a good job and take photos that will stir the hearts of people to give a lot of money to do big things, but I don't want to be so focused on that alone that I don't engage on a personal, human level. I will forever treasure these photos of my new sweet friends serving me while I'm there to serve them.
Here's the first set of photos I want to talk about in regards to my thought process and set up.
This is one of the very first families to receive a new home in Leveque. Through the help of local staff on the ground, we were able to share that we wanted to get a family portrait so that we could raise more money for more families to move in to new homes. Once I knew we were given permission to shoot, I took this quick photo of everyone being put in to position to see if I wanted to shoot natural light or bring out my strobes. Quickly realizing that the white curtains would be completely blown out, I decided to add an Alien Been 800 with a Profoto Deep White L Umbrella along with the Profoto Umbrella Diffuser.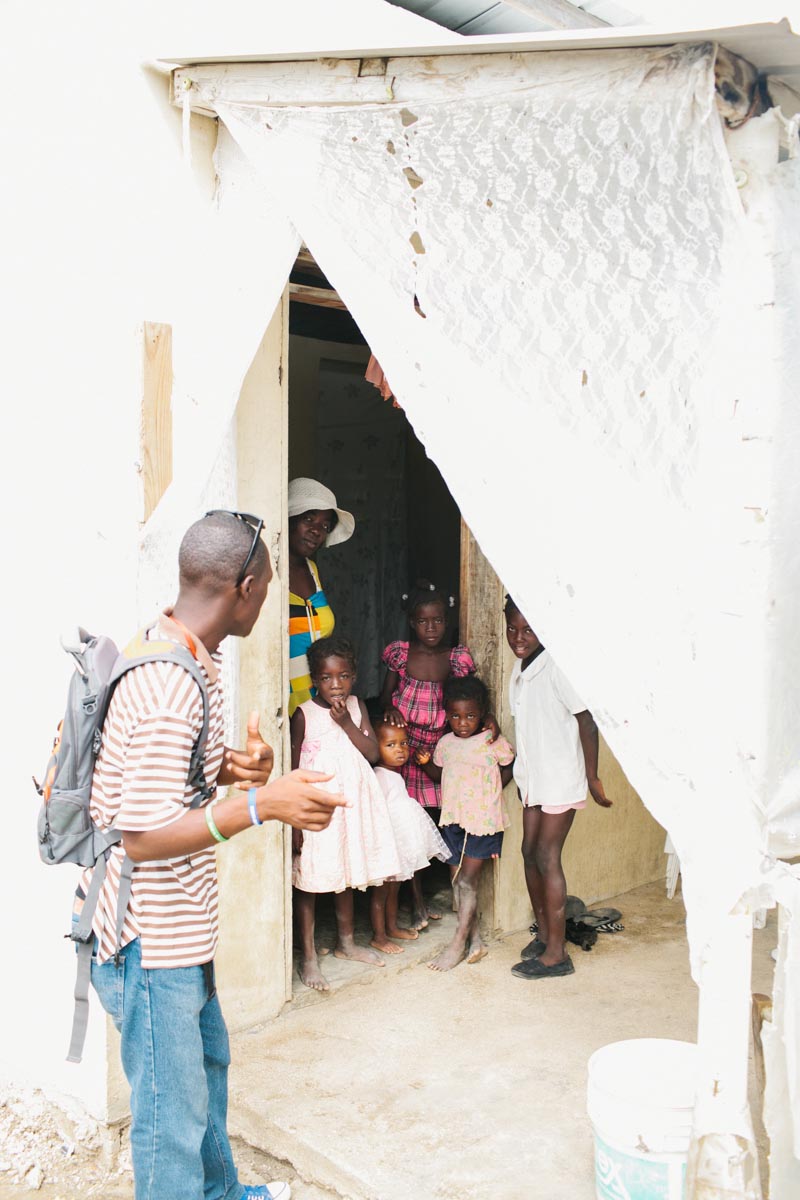 I positioned someone holding the light on the front patio just behind the white curtain and pointing back to the family. In fact, you can see the corner of it in the top right corner of this next photo.
While I now liked that the white curtain in the foreground was properly exposed to see the detail and texture, it was way too dark behind the family and I wanted to create some more separation as well as show the inside of the home.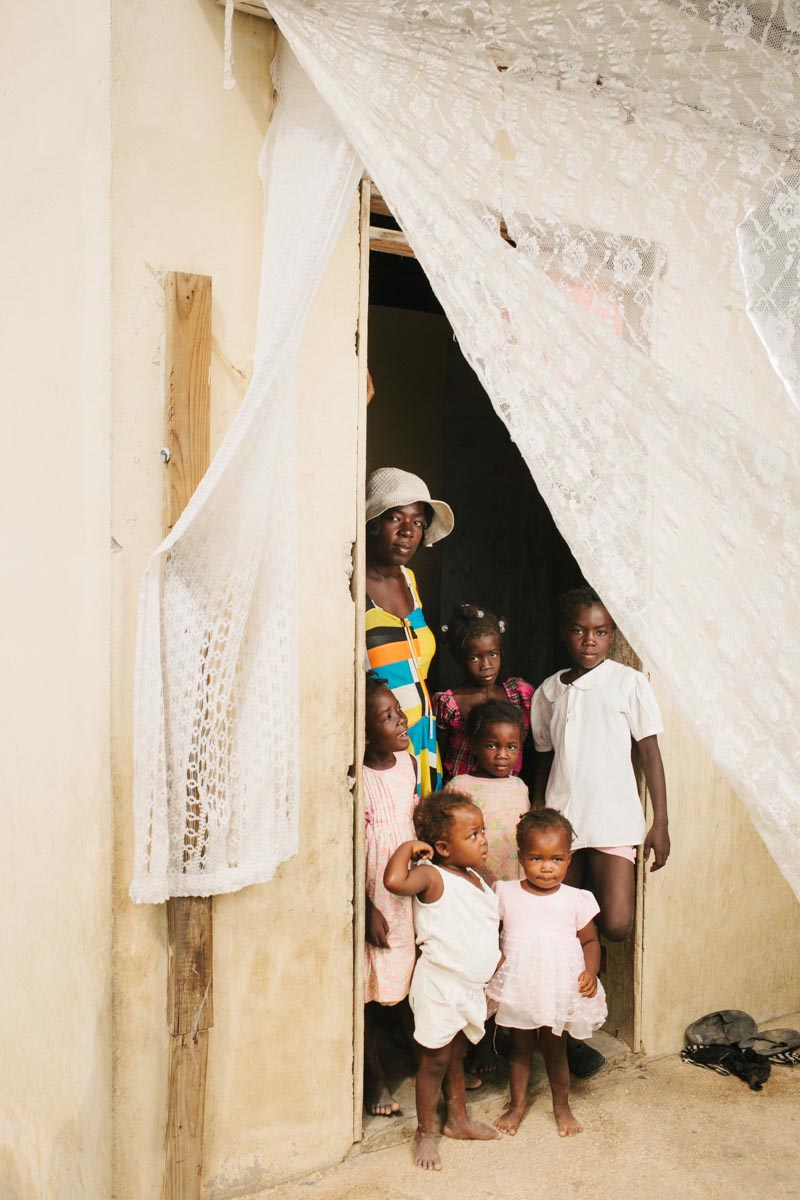 That's when I decided to add a 2nd light which was an Alien Bee 1600 shot barebulb facing the ceiling. Not only did it create the separation I wanted but it also helped to make the home feel warmer and more inviting. On a totally different note, what I really feel make this image the best out of the 20 I probably took is that it seems to portray the heart of a mother.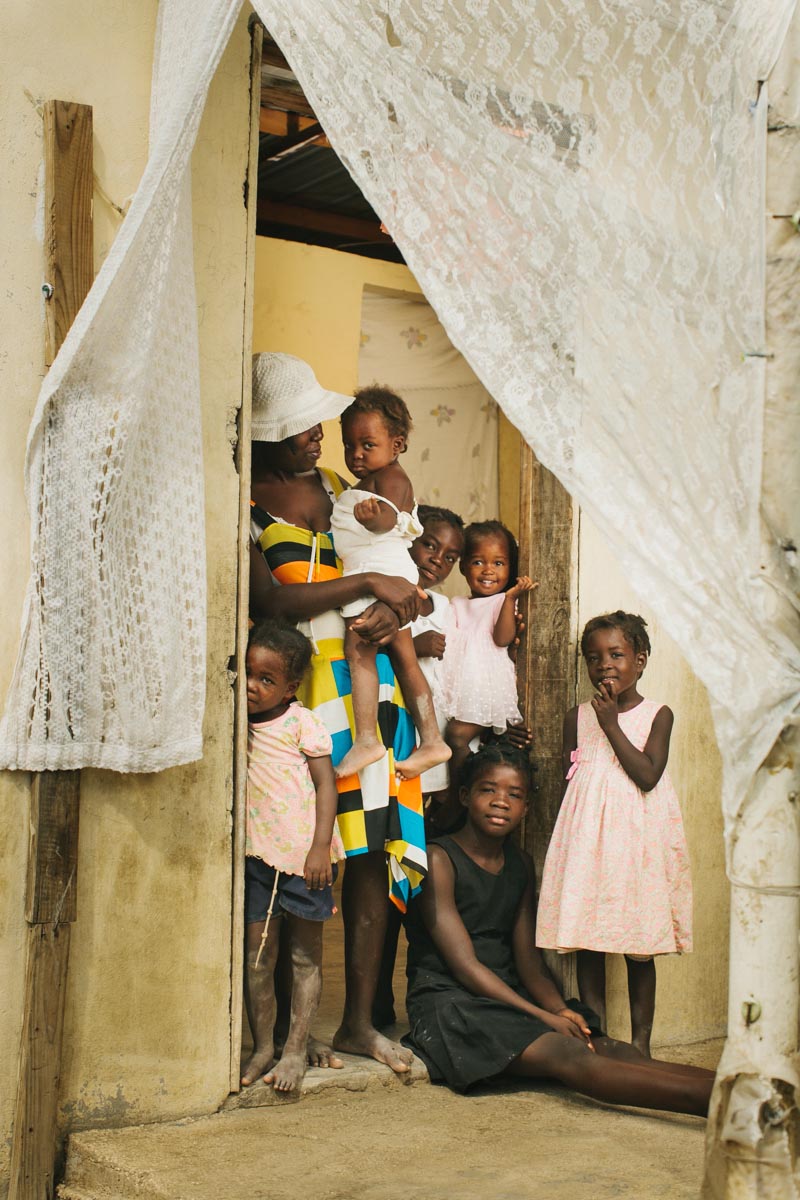 Next are a series of behind-the-scenes photos showing me shooting and what the finished image looked like.
To share a little more about what happens when you give to New Story Charity, here's a shot at dusk of one of the areas in Leveque which was built first. You can see the brightly colored homes containing large gardens that have grown within the confines of their property.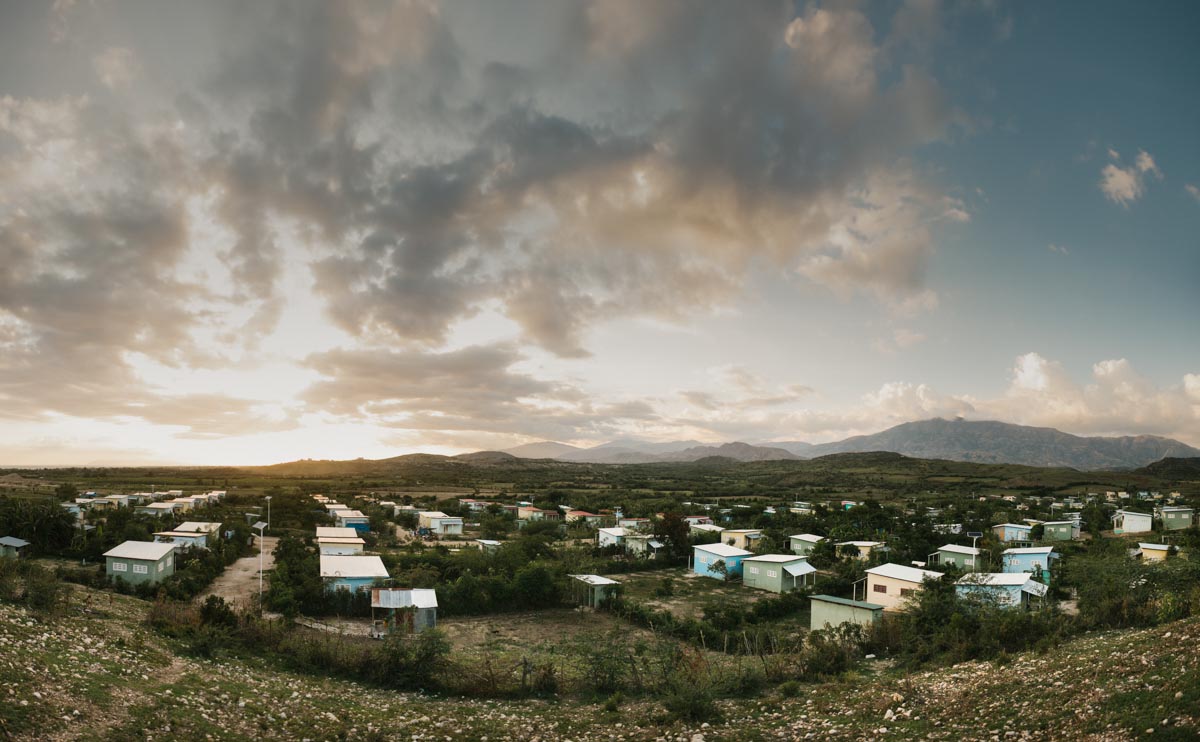 The reality is that there are still a lot of families living in tents.  While these tents were a great immediate solution right after the earthquake, and also quite amazing that they are still holding up, they were not meant to be lived in for 5 years.  They were ideally meant for up to 6 months in hopes that more established housing would be built shortly thereafter. Here are some frames from walking around the tent villages.
What I love is that when you give to New Story Charity, you are putting locals to work. New Story Charity partners with organizations on the ground who mobilize local contractors to build homes. So, not only are families moving from tents to brick and mortar homes but it's creating jobs for people to provide for their families.
While on top of a ladder to capture the image above, I realized I was stuck when trying to get down. When I looked to see what was the issue, I saw this guilty face looking back up at me in the direction of shoe which had been tied around the ladder. All the boys started laughing when I got down and told them a story about how my soccer teammates would always do that to each other when we fell asleep on the bus on our way to a match.
I kept noticing that many homes had tents set up in the backyard. I was told that when families moved in to their new homes they would often pack up their tents and take them with them to use as their kitchen. This allowed them to maximize the space inside their new home for living as well as create a safer environment for cooking.
When one of your major needs is met, like housing, you can then shift your focus towards other things. With shelter secured, it now opens the doors towards education and even entrepreneurship like the next photos will highlight.
This woman is providing for her family through a store she opened out of her home. That's her son and mother seated in the background.
The last 12 hours of my trip we were joined by a team from the states on a vision trip. This trip allowed them to see firsthand the life changing work that New Story Charity is bringing to families in Haiti.
Not only is the future bright in Haiti, but I'm so excited to see what's ahead for New Story Charity. They are an incredible organization with a clear vision: Fund Life-Saving Homes. I hope you follow their journey and participate as they do just that.